VISA FREE
On 23 August 2016 a document was signed alowing visa-free entry to the territory of Belarus and temporary stay for tourism purposes for up to 5 days in a special tourist and recreational Park «Augustovski channel». So today you have a nice opportunity to visit  Grodno and surrounding areas visa-free.
YOU CAN STAY IN THIS TERRITORY WITHOUT A VISA FOR UP TO 5 DAYS
As a tour operator for inbound tourism with more than 25 years of experience, we can provide you or your clients all the necessary information and relevant documents for fisa free trip to Belarus.
How to obtain documents for visa-free stay?
To start cooperation with our travel agency you need to download the application document, fill  in the application form and send it to us via e-mail: sportintour@rambler.ru
VISA-FREE BORDER CROSSING POINTS
Kuznica Bialystok – Bruzgi – around the clock
Rudavka – Lesnaya – from May 1 to October 30
Raigardas – Pryvalka – around the clock
Shvyandubre – Pryvalka – From May 1 to October 30
To come to the Republic of Belarus foreign citizens must have:
• A valid passport for travelling abroad
• An admission to the Park Augustovski channel (we give it to you)
• Insurance policy (we can provide it)
• Money: entering Belarus a foreign visitor should possess no less than 42 Belarusian rubles (~22 Euro).

* When crossing the border you will fill in the migration card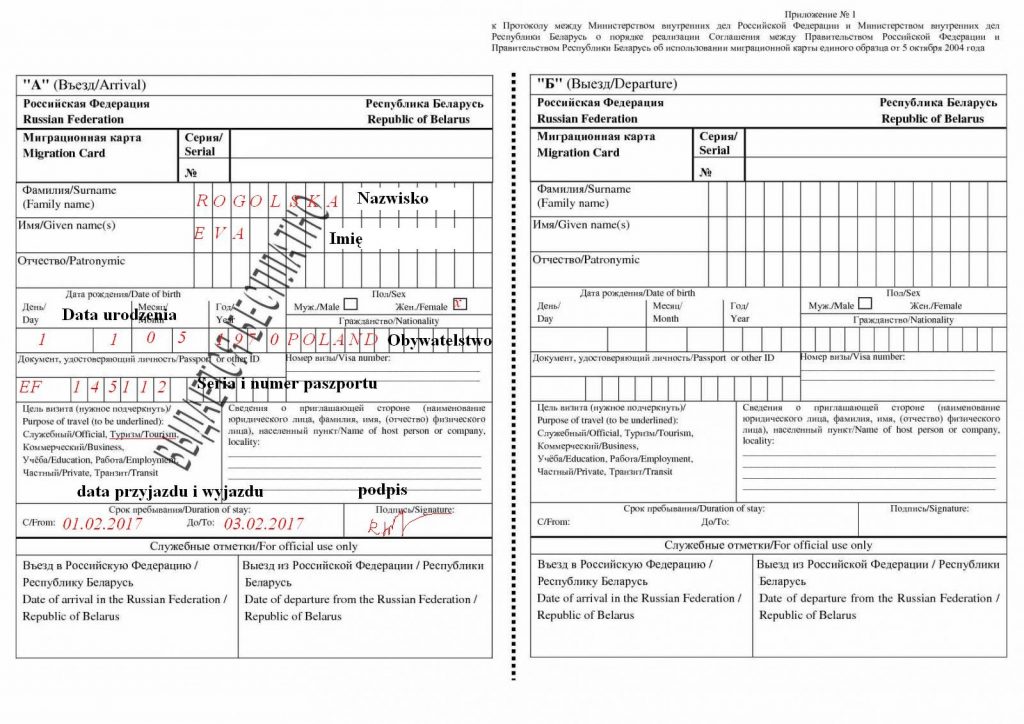 You take part A at the entrance
Part B – is taken at checkout
If you lose the migration card, you will pay a fine
Vehicle Rules & Regulations
To drive
one should have
a driving licence;
certificate of registration of the vehicle;
the contract of insurance "Green card"
*For personal vehicles a customs declaration is filled in .
Driving rules:
60 km/h in cities and towns
90 km/h outside settlements
Exception – certain areas where there's a speed limit of 120 km/h
In Belarus we have right-hand traffic
In Belarus you mustn't drive if you have drinken any amount of alcohol
The driver is prohibited to use a mobile phone while driving .
In Belarus radar speed control is rather widespread. On motorways there are a lot of cameras for speed control
         It is important to know: in Belarus there are some toll roads
Import rules and regulations
Without filling in the customs declaration, you can import for personal use
Cash - up to $10 000
Up to 3 liters of alcohol. 200 cigarettes (or 50 cigars (cigarillos) or 250 grams of tobacco)
Total weight of baggage for personal use is up to 50 kg, total cost - no more than 1500 euros.
Persons under 18 are prohibited to import alcohol and tobacco products
IT IS PROHIBITED TO IMPORT:
Weapons
Works of art and culture
Narcotic drugs and psychotropic substances(Medicines are allowed only for personal use)
Printed and audio materials, comprising:
appeals to terrorist activities; pornography; Nazi emblems or symbols.
Fur further information contact us
TEL: +375 152 44-59-50
vel: +375 29 631-74-80
mts: +375 33 622-20-99
e-mail: sportintour@rambler.ru
Without a visa you can visit:
Grodno city;
Sopotskin district;
Gozha district;
Podlabenie district;
Koptevka district;
Odelsk district.
A document, which is given to you by our tourist company allows you to visit Grodno and other territories visa free
Vladimir and Irena from Vilnius
I want to say a THANK YOU to your the stuff of ``Sportintour``! We found out on the Internet about the possibility to visit the city of Grodno visafree. This was our first visit to Belarus, which was a great success! The agency responded to our messages quickly and provided all necessary information and documents. We were surprised at the possibility of payment on arrival. I will recommend the agency to all my friends, thanks again!
Tatyana Bocharova
Sportintour organized for us a group tour to Grodno from Kaunas. We were very pleased! We saw a real winter magic! Thank you for this opportunity! Now we plan to come again in the summer. We recommend that you contact this firm, as there we found qualitative approach
Katarzyna P. Warszawa
Na targah w Warszawie odwiedzili stoisko Białorusi. Udało się porozmawiać z Panem Mikołajem, wlascicielem firmy Sportintour, miło słyszeć że białorusini mówią po polsku. W planach było odwiedzenie tego kraju jeszcze w 2015 roku, ale na wizowe formalności brakowało czasu. Wjazd bezwizowy to super opcja dla nas! Sylwester spotkamy na Białorusi dzięki tej firmie!!!:)))
HOLIDAYS IN BELARUS
New year – January 1
Christmas (Orthodox) – January 7
Day of Fatherland defenders and Armed Forces of the Republic of Belarus –February 23
Women's day – March 8
Constitution day – March 15
The day of unity of peoples of Belarus and Russia – April 2
Radunitsa - 9-th day after Orthodox Easter
Labor day – May 1
The day of the State Flag and Emblem of the Republic of Belarus – 2nd Sunday of May
Victory day – May 9
Independence Day – July 3
The October revolution day – November 7
Christmas (Catholic) – December 25
EMERGENCY NUMBERS
— 101 – fire rescue service
— 102 — police
— 103 — emergency medical care
THE NATIONAL CURRENCY
Belarusian ruble(Br)
URBAN TRANSPORT
buses, trolleybuses (you can buy tickests on the bus or in special kiosks at the bus stop
route taxi
taxi